India Career Ready Programme
India Career Ready Programme
Why India Career Ready? Who is India Career Ready for
The India Career Ready Programme combines a bespoke online learning programme and live workshops to give Indian students at Exeter tailored guidance with their career planning, whether they want to work in the UK or back in India after graduation. This programme, led by our Employability & Placement Consultants, focuses on helping students understand the differences between the graduate recruitment markets in both India and the UK and what students need to do to succeed in either environment. India Career Ready was created in the Business school but is available to all students across the university.
Indian students often need some extra help with their career planning because:
The majority of Indian students want to work in the UK after their studies
There are some major differences between finding and applying for jobs in the UK and in India
Indian employers and UK employers want very different things
Indian students will need a working visa to stay in the UK
UK CVs and cover letters are different from Indian resumes
Are you a student from the UK or another country who wants to work in India?
As India Career Ready contains helpful information about the Indian graduate labour market, application and selection processes used in India and information about how to conduct an Indian job search from the UK, it will also be of interest to any other students who wish to work in India during or after their studies.
India Career Ready also offers a range of live bookable employability workshops, which supplement the online course:
Finding Graduate Opportunities in the UK (and India)
UK CVs and Cover Letters
Finding Internships and other Work Experience in the UK
Communicating across Cultures
How I got hired in the UK (Alumni Panel)
Further information
If you are a Business School student looking for careers support outside of India Career Ready, you can book a one-to-one appointment on Handshake, search and book a range of careers events and view our other employability schemes on the Career Zone pages.
How does it work?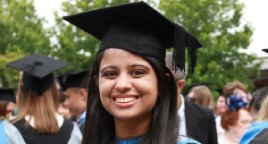 India Career Ready is a programme of two parts, an online resource for students to work through at their own pace, and a series of virtual workshops running throughout the year.
India Career Ready online includes topics such as;
How to Impress UK Employers as an Indian Student
How to Gain Work Experience and Internships in the UK
How to Find Graduate Jobs in India
How to Stand Out in the Indian Graduate Labour Market (and Compete with India-Educated Students)
How To Impress Indian Employers with Your UK Education
Access India Career Ready online
India Career Ready virtual workshops complements India Career Ready online. Each year we also arrange some talks from Indian alumni. Workshops are searchable and bookable on Handshake.
India Career Ready workshops and sessions
The India Career Ready online content is available for you to access at any time during your studies.
The India Career Ready Programme offers six bespoke employability sessions to help Indian students plan for their career. It is also available to students from any other country who wish to work in India during or after their studies. These sessions have been designed by highly qualified careers professionals to help you understand the recruitment processes in both the UK and India.
All India Career Ready sessions are designed to compliment the online content. You will get the most out of the sessions if you view the online content first. Access India Career Ready here. Booking information for the workshops below are available via the online content, or by completing this form.
Finding Hidden Opportunities
This workshop will uncover strategies to find "hidden" opportunities that are not advertised widely to students. Hidden opportunities include internships, work experience and graduate roles. We will explore strategies including maximising your own networks, building relationships on social media, tapping into networks within the University of Exeter and reaching out to employers.
Visa Regulations and your Career Development
The International Student Support team will co-deliver this session. We will help you understand how your student visa will impact on gaining experience such as internships and part time work. We will also learn more about the new Graduate Immigration Route for any students wishing to work in the UK after your studies.
Pronunciation for the UK workplace
This session, delivered in partnership with INTO, will guide you through the process of improving your English Language pronunciation skills for the work environment. The interactive session will focus on areas of pronunciation that are challenging and provide you with strategies to improve your fluency. You will have the opportunity to practice your pronunciation.
Hear from Indian Alumni
Previous Exeter students discuss their experiences of entering the labour market, both in India and in the UK. An opportunity to ask questions and learn from their graduate journeys.
Hear from Employers
UK based and Indian employers discuss what they look for in graduate hires, and share tips about how you can impress them. A chance to ask for advice.